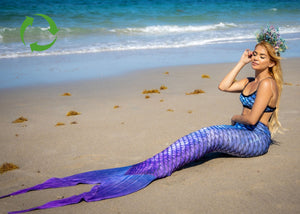 Eco-SirenaTail - Sapphire - IN STOCK
Sale price Price $119.00 Regular price $149.00 Unit price / per
**IN STOCK** -  Ships in 1-2 days
Our RECYCLED fabric Eco-SirenaTails are the responsible choice for sustainable mermaid divewear.
Made from certified recycled polyester, our Eco-Mermaid Tails and Swimwear reduce carbon emissions on land and help keep plastic pollution from reaching the oceans. The innovative fabric is thicker, stronger and stretchier than our original tech fabric.
Engineered to perform, Eco-SirenaTails are made to fit the ultra comfortable Linden monofin. Our tails don't have a casing, making them lightweight and agile for an effortless mermaiding experience.
The colorful and unique mermaid scale art, created in the Cape Cali studio, will stay vivid for years to come as a result of advanced sublimation printing techniques. 
Pack up with LESS IMPACT,
whatever your destination. 
Go dive in!
**Please take care when using your mermaid tail! Pebble Tec pools, pool decks, rocks and rough surfaces can damage the print and/or fabric. Cape Cali cannot be responsible for tails that have holes or rips due to misuse** 
*Monofin NOT included, click here to purchase* 
Professional Mermaid and FreeDiver 
@themermaidelle
Al photos courtesy of 
@themermaidelle
 and 
@nativproductions
78% Recycled Polyester / 22% Spandex


Made in the USA

Elastic waistband

YKK invisible zipper in fluke

Hand wash, hang to dry

Fits the 

Linden monofin by Body Glove
International orders:
We highly recommend UPS or DHL for international orders.  While more expensive, shipping is quicker and provides a tracking number for each package sent.  
Domestic orders:
USPS - Allow up to a week from the time your order is shipped until it arrives.   
Caution!
Cape Cali DiveTails should only be used with a monofin by adults who are competent swimmers.  Use safe practices and swim only when conditions permit, never swim in treacherous or uncertain waters.  Never swim alone, beyond your ability or under the influence.  Misuse could result in injury or death.
Be responsible, be safe and keep mermaiding alive!