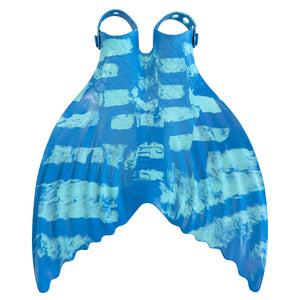 Eclipse Monofin by Finis - ADULT
Sale price Price $129.00 Regular price Unit price / per
Dive into an enchanting underwater adventure with the new and improved Luna Eclipse Monofin. Identical in design to our original Luna, the Eclipse is now made of natural rubber, which is more stiff than silicone, and provides more propulsion throughout the kick. Improved foot strap design creates a more secure fit. Perfect for swimming in the ocean, lake, or backyard pool. Bring your mermaid dreams to life with the Luna Eclipse.

EXPLORE THE MAGIC OF SWIMMING:  Allows swimmers to glide through the water with the graceful movements of a mermaid
ADJUSTABLE STRAPS: Adjustable straps fit a variety of foot sizes and allow for a customized fit
LEARN PROPER TECHNIQUE: Teaches a balanced dolphin kick and builds leg strength
COMFORTABLE: Constructed from natural rubber the Luna Eclipse is soft, durable, and comfortable
PREMIUM DESIGN: Crescent shape and rippled edges create a wave-like motion in the water
Rinse in cool, non-chlorinated water after each use.
Leave to air dry on a towel.
Please avoid leaving in direct sunlight for extended periods, as it may damage the material.
**Caution - not intended for novice swimmers**
| Size, Color (code) | US Male | US Female | EURO | AUS |
| --- | --- | --- | --- | --- |
| Small  *JR Sizes | 11–3 | 11–3 | 28–35 | 11–2 |
| Medium | 4–9 | 5–10 | 36–42 | 3–8 |
*Adjustable straps fits a range of shoes sizes