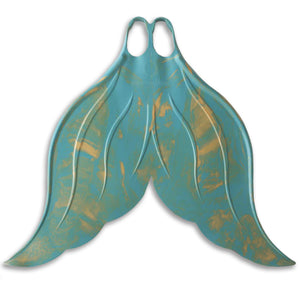 Mahina MerFin ADULT - Aqua
Sale price Price $115.00 Regular price $135.00 Unit price / per
IN STOCK, ships in 1-2 days
$15 shipping to mainland US
$25 shipping to Hawaii, VI, Guam, PR
Fits the Eco-DiveTail and GalleryTail
The sleek design of the MerFin provides the wearer with an authentic mermaid swimming experience. The functional Mermaid monofin is designed for performance, speed & propulsion through the water.

Neutrally buoyant, soft and flexible, the Mahina MerFin is light as a feather and won't weigh the swimmer down. The blade is designed for a soft & fluid motion through the water, while giving swift propulsion & speed. Once on, it feels as if it is a natural extension of your body.
* Made from natural and recycled rubber
* Made in Malaysia
* Mahina MerFin is the first functional rubber mermaid fin of its kind
For a more comfortable fit, order up a size.  For longer swims we recommend wearing scuba socks, like these from Seavenger.
Our Mahina MerFin ships directly from Texas